Friday, December 03, 2004
The Return of Jeff George
He's one of my least favorite players of all time, the original "million-dollar arm and ten-cent head".
According to one article I read, George was so eager to come back to the NFL that he reportedly was willing to donate his salary to charity. My response was to ask whether he was willing to learn to read defenses. George was quoted during his last NFL stint in 2001 as saying that reading defenses was overrated.
My attitude has always been that every athlete brings two things to the game; his athletic abilities and his mind. An example from my softball days comes to mind. I always used to try to pay attention to what pitchers did with their "cripple" pitch; the pitch they throw when they are behind in the count 2-0 or 3-1. This one day the opposing pitcher got in this situation early in the game. He gave an exaggerated, "here comes the speedball" motion, and then lobbed the ball over the plate. The batter, who was way out in front of the pitch, hit the ball hard, but foul by a mile. So when I worked my way to a 3-1 count in the seventh inning, I was ready, and crushed that lob pitch over the leftfielder's head for an easy homer.
A lot of athletes like George are so gifted physically that they never develop their mental skills.
Pondering the Imponderable
Captain Ed catches
Pennsylvania Governor Ed Rendell suggesting that had 9-11 never happened, John Kerry would have been elected President. Ed uses that as a jumping off point to suggest other events that, had they never occured, would have changed history as well, to which I would just add that had Lincoln never been died he would be beginning his 36th term as President.
Would John Kerry have been elected if 9-11 had not taken place? I suppose you could construct a narrow argument that without the focus on national security the election would have turned on the economy and jobs, issues on which the Democrats are presumed to have an advantage (God only knows why). But of course, taking 9-11 out of the picture also means that we have to take out the effect of 9-11 on the economy and jobs, which undeniably was strongly negative.
You'd also have to assume that President Bush would not have invaded Afghanistan and Iraq, so the "anti-war" movement would not have started. Howard Dean would not have been the front-runner last December, which would have meant that John Kerry might never have emerged as the "electable" alternative to Dean. Indeed a lot of people have speculated that Kerry's comeback among the Democrats was largely due to his war record. Would that have mattered if there had been no war?
Giambi: Good News/Bad News?
Now that Jason Giambi
has apparently admitted
using steroids, I couldn't help thinking that the explosion of money for premier athletes is kind of a good news/bad news situation. The good news is that you'll make a ton of money, the bad news is that you'll probably ruin your health long term so that you can't enjoy all that money you've made in your old age.
The local radio loudmouths were speculating about
Luis Gonzalez
, noting his incredible 2001 campaign and that he had not put up numbers like that before or since. That part is true; Gonzo hit 57 homers in 2001 versus a high of 31, and slugged .688 versus a prior high of .549. Of course, the problem with this line of analysis is that lots of players have career years seemingly out of nowhere.
Roger Maris
hit 61 homers in 1961; his high except for that was 39. Would anyone care to suggest that Maris was doing 'roids during the Kennedy Administration?
Should the Democrats Compromise Their Positions?
The other day I wrote this:
Matthews admitted that the Democrats don't have a majority of the country behind them. But then he posed the question--would we compromise our positions to get to 51%? So why should we expect the Democrats to do so?
My answer is no, they should not compromise their positions. But,
as I wrote
a few days ago, they should start being
honest
about them.
The Democrats are caught in a trap. They can't be honest about their true positions on certain social issues (abortion, gay marriage, gun control) without losing votes. So they try being dishonest (or disingenuous) about those positions, but the voters are smart enough to see through the fog.
Wednesday, December 01, 2004
Tough Question on Abortion
I'm not a big fan of Chris Matthews, but he raised two arguments on the Laura Ingraham show this morning that I found very interesting.
Matthews admitted that the Democrats don't have a majority of the country behind them. But then he posed the question--would we compromise our positions to get to 51%? So why should we expect the Democrats to do so?
I have an answer to that one, but I'd love to hear from you folks first, so I'll post it in a follow-up to this post.
The second argument was very tough, and I'll admit I don't have an answer for it. On the issue of abortion, Matthews pointed out that if we really think it's murder, are we willing to punish the women with anything like the sentence we dole out for murder, and if not, why?
Laura said something about how the women were victims too, which did not seem convincing. Of course, some may be victims of rape or incest, but I suspect that the vast majority of women seeking abortions do not fall into that category.
I'm definitely not saying that I would put a woman in jail for life for an abortion. But what is the logic of that position? If a life is a life, then why should she not get life? We do seem to have quite a bit of tolerance even for infant-killing among mothers, who seldom get more than a few years except in the sensational cases. But it's still a couple of years. What should be the punishment if abortion were made illegal?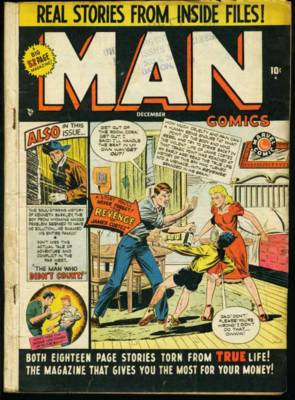 Politically Incorrect Comics

Here's a classic politically incorrect comic from the late 1940s. As you can see, the man is drinking booze and beating up his kid. This is always a mistake, since he might spill some. ;)
Lucky Teams
Paul mentioned in the comments that he thinks the Jets are lucky, and that the Rams are probably better than they are. I disagreed about the latter issue, but he appears to have a point about the former.
Let's start out by defining lucky. Lucky is simply when your record does not seem justified by your other statistics. For simplicity's sake I decided to look at the comparison between Net Points (Points Scored minus Points Allowed) and Net Wins (Games Won minus Games Lost). After looking at the last three seasons, I determined that the most accurate formula appears to be Net Points divided by 18 equals Net Wins. The Jets have 57 net points, divided by 18 means the Jets should be 3.2 games above .500. Since they are actually 5 games above .500, they appear to be lucky by about 1.8 games. Converting that into a Won/Lost record, they should be more like 7-4 than 8-3. Lucky, but nothing unusual. By this measure, Atlanta is the luckiest team in the league. They have 17 net points which should equate to a 6-5 record, not 9-2. By this measure, Pittsburgh, New England, Jacksonville, St. Louis and Dallas are all luckier than the Jets.
The unluckiest teams this year are Kansas City, Miami, Tampa Bay, Indianapolis, Cleveland and Buffalo, each of whom should have at least one more win and one fewer loss given their point differential. Green Bay is the only team that exactly matches its anticipated record, with 54 Net Points and 3 Net Wins.
Tuesday, November 30, 2004
NFL Power Ratings after Week 12
Comments: The Top Six remain in place after all but Baltimore win. Interestingly, the spreadsheet scores that game for the Patriots as a 33-5 win against a normal team on a neutral field, while the Ravens get hung with only a 5-18 loss. This just reflects that the game had two good teams in it.
As discussed earlier, the NFC is clearly weaker than the AFC this year, by a substantial amount. The ratings reflect that with only one NFC team in the top 10 (Philadelphia at #3), and only two AFC teams in the bottom ten. The spreadsheet is quite disdainful of NFC West Division leader Seattle, but they are 6-5 against the weakest schedule in the league. San Francisco's season is even worse than it looks at 1-10; they have faced the second easiest schedule. The toughest schedule has been that of Jacksonville.
NE 112.8
Ind 112.3
Phi 110.9
Pit 107.7
SD 107.2
Bal 106.0
NYJ 105.7
KC 104.3
Den 103.5
Buf 103.2
GB 101.9
Atl 101.5
Min 101.2
Jax 100.0
Cin 99.3
Cle 99.1
NYG 98.6
Hou 98.5
Ten 98.1
Car 98.0
Sea 97.9
TB 97.5
Oak 96.6
Chi 95.6
Was 95.5
Det 95.2
StL 94.7
Mia 94.0
AZ 93.8
Dal 93.0
NO 91.1
SF 85.2
NFC Continues to Stink Up the Joint
If the NFL's season ended today, the 5-6 Rams would be in the postseason, and the 7-4 Broncos would be out. The AFC is now 32-18 in games against NFC teams, with even the lowly Miami Dolphins at 2-2 against the other conference. If you sort the teams by Points Ratio (Points Scored divided by Points Allowed), the only two NFC teams in the top 10 are Philadelphia at #1 and Green Bay at #9.
Monday, November 29, 2004
See the Sun
Nice column by William Safire, but I exploded with laughter at
this line
:
I suspect a subpoena forced Kojo to hire a lawyer, whom reporter Rosett tracked down and The Sun had its first world beat.
Rosett is Claudia Rosett, and if she does not win a Pulitzer for this story it should only be because other NY Sun reporters (like Tom Lipscomb and his amazing work on John Kerry's involvement with the VVAW assassination plot) also deserve it.
What Do the Democrats Need to Do?
I've been noodling on this since the election.
First, they need to stop lying about their more controversial positions, and start persuading.
One of the obvious issues that they are lying about is gay marriage. It's safe to say that most Democrats feel that anything less than full gay marriage with all the rights and benefits and problems of heterosexual marriage amounts to legalized discrimination. A reasonable case can be made for that argument. Not saying I buy it personally, but it is certainly an argument.
But liberal politicians are unwilling to attempt this argument because their polling says it will cost them votes. So they say they're opposed to gay marriage while simultaneously being against anything that would prevent it from happening. They appear to be hoping that the courts will intervene (as they have in Massachusetts), and that with younger people purportedly more tolerant on gay issues that demographics will bail them out over time.
Of course, hoping for the courts to intervene guarantees only that the battle will linger, as the continuing battle over Roe v. Wade demonstrates. Issues that are resolved legislatively are generally settled for good; issues that are resolved judicially are seldom seen as binding by the losers. And at any rate, the voters deserve to know what their leaders really think, not have their own opinions regurgitated back at them.
This is just one issue, but there are lots like it. Let's take abortion for another. What is the real Democratic position? No restrictions on abortion at all. Again, an argument can be made for this position, but you will not find a major Democrat enunciating it. Why? Because they know it's a loser among those people who vote largely based on the abortion issue. So instead they vote against any restrictions on abortion including the disgusting partial birth abortion procedure.
Or gun control. Let's face it, most liberals would like to ban all guns in private hands (as is common in much of Europe). Be honest, liberals!
I'm not kidding with these suggestions. Yes, they would kill the liberals for awhile, because they have been trying to snooker everybody with their "third way" positions for 12 years now. But it's not working, and you can't really get away with the mushy middle anymore. We're all onto you in Red State America. You are fooling nobody but yourselves.
Sunday, November 28, 2004
This Won't Succeed
I enjoyed
this article
about an American living in Canada, and her caution to those thinking of leaving the US in favor of the Great White North.
Although I enjoy my work and have made good friends here, I've found life as an American expatriate in Canada difficult, frustrating and even painful in ways that have surprised me. As attractive as living here may be in theory, the reality's something else. For me, it's been one of almost daily confrontation with a powerful anti-Americanism that pervades many aspects of life. When I've mentioned this phenomenon to Canadian friends, they've furrowed their brows sympathetically and said, "Yes, Canadian anti-Americanism can be very subtle." My response is, there's nothing subtle about it.
Just one problem here. The writer assumes that those Americans who are talking of emigrating will be turned off by the notion of open and reflexive anti-Americanism. For the most part, they won't.
It's Dowdy-Doody Time!
Looks like
Maureen Dowd's family
probably thinks of her as "Slow-Mo", just like us bloggers.
I've been surprised, out on the road, how often I get asked about my family. They're beyond red - more like crimson. My sister flew to West Virginia in October to work a phone bank for W.

People often wonder what our Thanksgiving is like.

It's lovely - if you enjoy hearing about how brilliant Ann Coulter is, how misguided The New York Times's editorial page is, and how valiant the president is as he tries to stop America's slide into paganism.
Heheh, sounds
just awful
, Mo!